For deletion, the user has to confirm. Reports are emailed using clients installed in device (see screen below).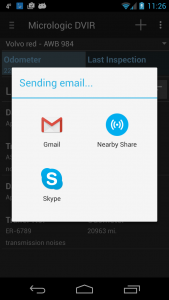 IMPORTANT : The free version allows only one email vehicle inspection generated every three days.
The report looks as below when opened in any email client (it comes as an attachment).
Note: All vehicle inspections but the last one can only be viewed and the interface is graying out all the input fields. For the same reason, the toolbar allows only delete or email operations.